Rain is not only drops of water its the love of Sky for Earth.They never meet each other but send love this way..Enjoy the Love Of Nature...
Love is when you don't want to go to sleep because reality is better than a dream . Some broken hearts may never mend, some memories may never end ,some wet tears may never dry but my love for you will never die !! Life is for you, death is for me, being happy is for you, being sad is for me, being together is for you, being lonely is for me, everything for you but you are for me !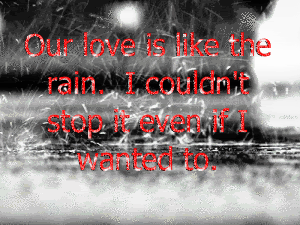 Drizzling water droplets splashing outside
Carried my mind like a feather to the
bygone
memories
Where there were fewer qualms under the caring wings of my mother
Alas! Her loss left me devastated like the aftermath of a big quake
To turn back to normal life took some unpleasant time
Till I got back my lost mom in an affectionate mom so similar to her
How blessed am I, two moms to shower me with great love at different period
Once again it started raining to bring prism of hues to my lost life
When the changing climate was going so cool& cozy
It started to rain heavily outside & at midnight alone in my bedroom
A pair of pretty wet eyes appeared on my glossy window glass pane gazing at me
Seven symphonies of colours are not enough to portray her enticing eyes
We melted in each other's eyes silently looking for hours
Never got tired or jaded &hours seemed like seconds
Mystifying smiling speaking eyes carried me to a flowery divan of reveries
Like the moonlight glowing in the cloudy night lit my lonesome heart
Ever gave me that caring company in every showery midnight
She became my joy jingle bells that rang my life with melody & rhythm
At my window pane on a heavily pouring day I saw her rainy exquisite eyes
While we enjoy raindrops I feared teardrops in her mesmerizing eyes, it pained
Cry in rain is vain but I ran out like a lunatic drenching in the thunder lightening
The separation from her is agonizing, deteriorated my health day by day
To end up confined to bed, lying there I saw the pretty eyes on my window pane
Even when it was not drizzly outside the eyes was watching me without fluttering
My ecstasy knew no bounds I recovered my health on spot to kiss the sweet eyes
Oh! To my dismay it was a portrait so perfect like her eyes but lifeless
Even a picture could do wonders to me such is the magical spell of her over me
Still I am amazed who drew those pair of dazzling eyes exactly like hers
Is it the work of God or my Moms to see me come back alive??
The girl with the pretty eyes still doesn't know how she changed me
A renovation & emotion beyond an explanation
She doesn't know how much I love & want her through thick &thin, sick &sin
If love had a shape she could see a planet of love engraved in my blood for her
Where has she is gone leaving me so alone? I am tirelessly searching in the rain
Was it only a dream or a mischief of some magical beings?
Her glinting amiable eyes loved me dearly & I know it's only mine
I have full faith& trust in those pretty patient eyes
It's still raining outside with hopes, passions & dreams
It's still raining inside with endless love waiting for my dream girl
Will she be back to me like the showers to a thirsty arid earth?
And spring a cascade of beautiful blooming life to me
Together let us rain to bring rainbow to many needy lives out there
*
*
*
*
*
*
*
The rain may be falling hard outside but your loving eyes make it alright, I am so glad that you are my love my dream girl, I know our relationship will never end .Loving you could take my life but when I look into your eyes I know you are worth that sacrifice…
Dedicated to my only love my dream girl with the prettiest eyes who is near yet so far who hardly sees or hears ... Seasons change, you may change but my love & passion for you will never change even if I grow old& die
*
*
*
*
*
*